For the 1st time Mentoring Program Fundacji Liderek Biznesu in both Polish and English
For the first time we provide Mentoring Program Fundacji Liderek Biznesu in both
Polish
and
English
with the support of a dedicated program supervisor Agnieszka Maruda-Sperczak. Deadline for submitting applications is March 31, 2021.
---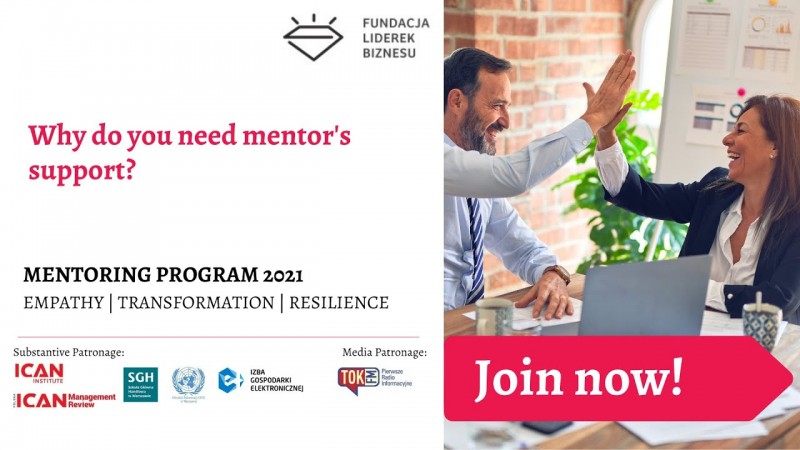 ---
Women Leadership in Business Foundation Mentoring Program is an extensive project that supports ambitious people - both women and men - in conscious career development, developing self-awareness, and also supports them in continuous acquisition and improvement of leadership competences.
We believe in the power of mentoring. Especially during these turbulent times mentoring can be invaluable support for many people and organizations. Moreover Mentor & Mentee relationship combined with workshops and belonging to our community, allows us to face the current challenges as leaders.
Women Leadership in Business Foundation Mentoring Program:
The largest cross-business mentoring program in Poland targeted at women and men with not less than 5 years of professional experience;
The scheme focuses on developing Mentees' leadership competencies, offers support to help them consciously plan their professional careers and improve business performance;
Mentees are provided with end-to-end support within 9 months of the program – personal coaching sessions with a Mentor, self-development workshops, a Reiss Motivation Profile assessment, reference books and handouts, networking sessions.
---
APPLY AS A #MENTEE - face your challenges with the support of Mentors and experienced experts from various fields.
---
APPLY AS A #MENTOR - share your knowledge and support less experienced leaders in professional mentoring project
---
7 editions of the program behind us
Nearly 1,500 participants from all over Poland benefited from our Program
Over 80% of Mentees achieved their goals!
Over 600 Mentors from nearly 60 industries - supported Mentees in our program, including the Certified Mentors of the Business Mentors School
Substantive Patronage: ICAN Institute, ICAN Management Review, SGH Warsaw School of Economics, Izba Gospodarki Elektronicznej, Ośrodek Informacji ONZ w Warszawie
Media Patronage: Radio TOK FM
« Powrót do listy wydarzeń